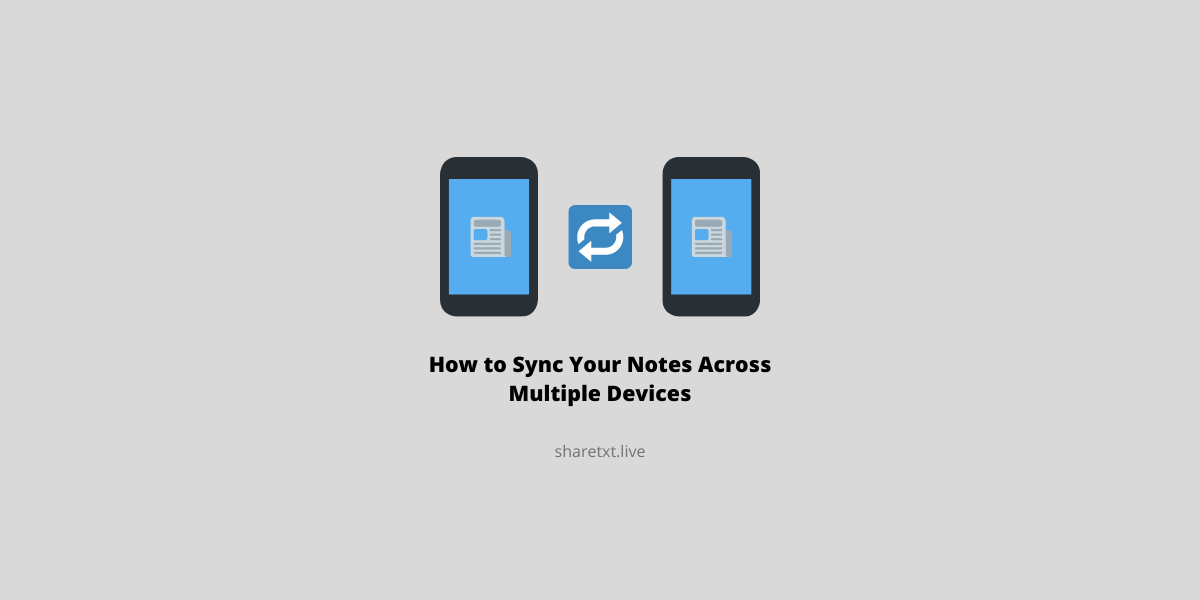 Are you one of those people who have half a dozen devices but only get to use one at a time? And every time you switch from one device to another, you are lost as your notes could be on any one of them.
Keeping your notes in sync online is a very easy task if you use the right tools.
I've spent years trying various syncing solutions – solutions that would make my life easier by syncing across all my devices regardless of differences in device manufacturer.
In this article, I will go over how to use an online web app called ShareTXT to enable you to synchronize your notes across multiple devices.
I used to have my notes on my laptop and after that, I used cloud services to synchronize and share them across all my devices.
The problem was that the simple task of sharing one or two lines of a note, was a very slow process. I wanted something way faster.
With ShareTXT, your notes get synchronized across all your devices in real time as you type them into the application.
With it being an online application, you do not need to install any app on your devices. It works automatically out of the box without any setup.
Benefits of keeping your notes in sync
Syncing notes is important. It helps you have one source of truth across browsers, desktops, and mobile phones.
It is a great feature, especially when you're on the go. If you edit a note on your computer, all other devices will automatically update to reflect those changes.
Your notes can easily get disorganized, especially if they are in multiple places.
You can access your notes anywhere you want with a modern browser. You don't need to install any software on your computer or smartphone.
If you are on your computer, laptop, tablet, or phone and you have an internet connection, you also have access to your notes. Any changes you make will be updated instantly across all devices.
You can easily share your notes with others by copying them and pasting them into the other device's clipboard.
Synchronizing your notes is important
If you have a team of people contributing to the same set of notes.
If you have several devices and want a consistent experience across all of them.
If you're using multiple note-taking apps and want to switch seamlessly between them.
How to quickly sync your notes online
ShareTXT is an online web application that makes it incredibly easy and quick to sync your notes across multiple devices. You can get started in less than a minute.
How to sync your notes across multiple devices with ShareTXT
Using your web browser, go to sharetxt.live
Visit the same link on the other device that you want to synchronize your notes
Type or paste your notes into the input field.
As you begin to type your note, it automatically appears on the other device because the notes are synchronized.
You can have multiple devices synchronized by visiting the same link. The moment you begin to type or paste a text into the input field, it will automatically appear on all the devices.
You can also save your notes and access them from any device.
Log in or "Claim a link" to create an account with your Google account or email address.
Since you are creating and managing your notes online, you can be sure that they will remain synchronized when you access them from any device.
Conclusion
In this day and age, we're connected with our various devices 24/7. It makes sense that you'd want to save your notes on one device so you can access them on another.
Doing more with your notes is easy when you have them readily available across multiple devices.
ShareTXT is a platform for synchronizing your notes so you can take your notes with you wherever you go.
You can sync your notes and share your passwords or security codes safely and quickly across multiple devices in real-time and the best part is that it is free to use and works automatically without installing any apps.
Hopefully, this post has given you some ideas on how to easily keep your notes synchronized.
Do well to contact me with your thoughts. I'd love to hear from you.