In online marketing efforts, 57% of marketing experts believe on-page SEO content to be the most effective tactic. It dictates how much traffic your content generates and how your blog or website ranks in SERPs.
A tool such as a plagiarism checker can save you from a lot of SEO pitfalls by ensuring that your content is unique.
Bearing this in mind, it is essential to understand that Google alone is responsible for 92.96% of global internet traffic.
Copying content from other websites can hurt your rankings. But, how do you check to ensure that your content is unique?
What is a Plagiarism Checker tool?
The main idea of a plagiarism checker tool is not difficult to understand. Simply pick up any dictionary and look up the word Plagiarism; to steal or copy another writer's idea, then post or submit it yourself.
A Plagiarism checker tool is an application that is created to inspect your content and determine if it has been copied from another source.
What are the Types of Plagiarism?
Here are 3 types of Plagiarism:
Direct Plagiarism
Direct plagiarism is when a writer blatantly or directly copies another writer's work and then passes it on as their own. This is highly unethical and considered the most severe type of plagiarism in content writing.
Patchwork Plagiarism
Patchwork or mosaic plagiarism is yet another unethical type of plagiarism, and in this scenario, the writer copies bits of content and then changes it just enough to pass a plagiarism check.
Auto Or Self-Plagiarism
Auto or self-plagiarism happens when a writer accidentally writes something similar to their previous content. In SEO, it's also called internal duplicity. However, it's not any less severe, and it must be avoided.
What is the Importance Of Checking for Plagiarism?
Reading the reasons mentioned above, you might have grasped the importance of avoiding plagiarism. But, to help you put a lid on it, here are 3 main reasons to check whether your content has been Plagiarised.
Improves your reputation
Plagiarism-free content is not only something that builds your reputation with your audience, but it also improves your credibility with search engine crawlers.
By using a dependable tool, you can ensure that you firmly detect and remove it before publishing your content online.
Improves your Ranking Probability
Ranking probability in Google depends on 200 factors, and most of them surround original and informative content. That's why you need to ensure a plagiarism-free approach to post content that ranks higher in SERP.
Avoid Harming Your Reputation
Your online reputation as a business, or a content writer, depends a lot on how well you write content. Because of this, creating high-quality original content will boost your online reputation.
What are the Best Plagiarism Checkers In 2023?
We've talked about the importance of checking
that your content is plagiarism-free, and we have also looked at the various types of plagiarism.
How do you ensure that your content is not plagiarised? By using the best plagiarism tools available today.
Here are 3 of the best plagiarism checker tools you can use for free right now.
Check-Plagiarism is named after the process. So, is it good at checking plagiarism? Yes, it is. As you open the website, you see the plagiarism checker in all its glory. You can paste the content, just as we have done here: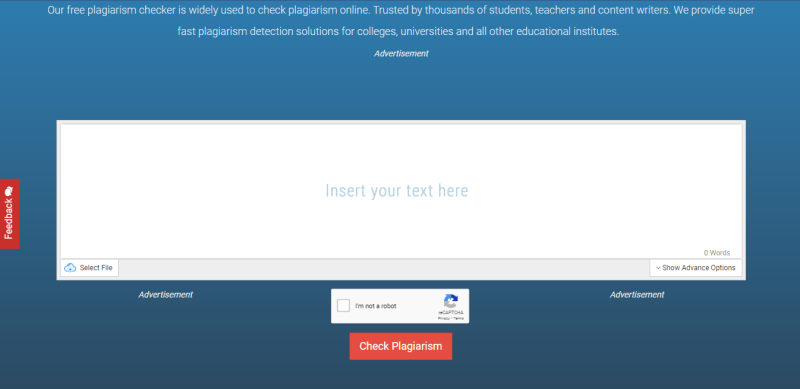 As you can see, all you need to do now is click on the captcha check and then click on "Check Plagiarism." Once you do that, the page scrolls down and takes you here:

Here, the tool shows us the percentage of plagiarism in the content we check. As you can see, this particular content has been 100% plagiarised.
The tool also gives us the option of comparing each URL. So, here's what you see when you click on either one: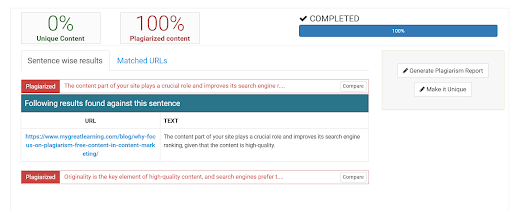 This is a highly convenient feature, as it allows you to study the original/source content right away, which can improve work efficiency by miles.
Also, when you scroll down further, there's a convenient little bit that Check-Plagiarism provides you: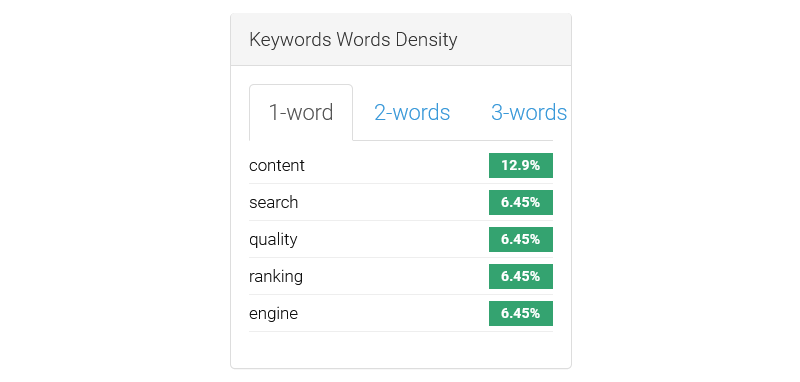 This section shows you the keyword density in your content. This is highly convenient for readability and can help you ensure that your content quality is high.
Features To Look Forward To:
Mobile-Phone application
Keyword density checker
Text comparison
Pros
Easy to use
5000-word limit
A convenient mobile phone app
Built-in keyword density checker
Cons
Ads will bug up your screen
Captcha check might get annoying after a while
Text Reverses Plagiarism Checker is yet another stellar tool you can use today. This remarkable plagiarism checker comes from a provider who offers an array of intriguing tools. So, the plagiarism checker is not far behind in terms of abilities. Here's what you see when you enter the plagiarism checkers page: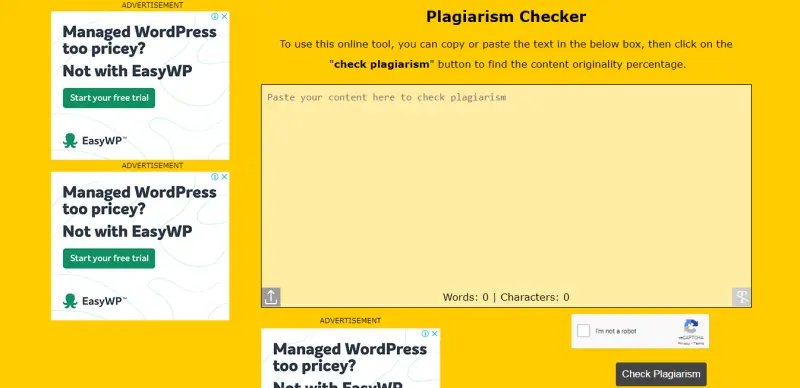 The tool doesn't make a fluff around checking for plagiarism, and as demonstrated here, it follows a straightforward approach. So, when you verify that you're not a robot and check for plagiarism, here's what you see next: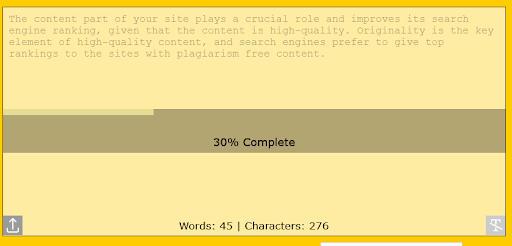 This process takes around 5-10 seconds, depending on your word count. Then, the tool scrolls down the page habitually, to this point: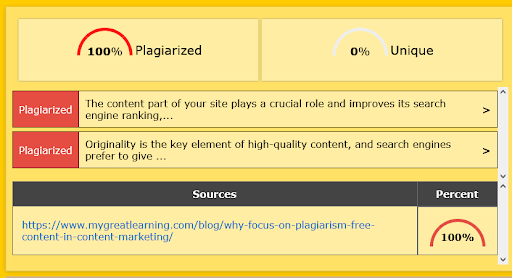 Here, you can see the same results as our previous test. The content is 100% plagiarized, as indicated by the plagiarism meter. However, the "greater than" mark you see takes you to Google SERP instead of the source page.
The source is mentioned right below. It takes you to the original page of the plagiarized content. This seems a bit strange, or it might be an error. However, it doesn't affect efficiency.
Text Reverses seemingly endless word limit is the key thing to understand here.

Until this point, the tool does not give any errors even when the word count is exceeded. So, it's safe to assume it offers more than 5000 words.
Features To Look Forward To:
Android & iOS application
Seemingly unlimited word count
Pros
Remarkably quick
Easy Checking
Plagiarism meter
Cons
A few advertisements
The yellow background isn't ideal for late-night writers
Plagium plagiarism checker isn't your average tool. From direct duplicity to content "most likely" used on other websites, this tool detects similarities of all kinds.
The website's homepage shows us how this tool's deep search works. However, here's the actual plagiarism checker: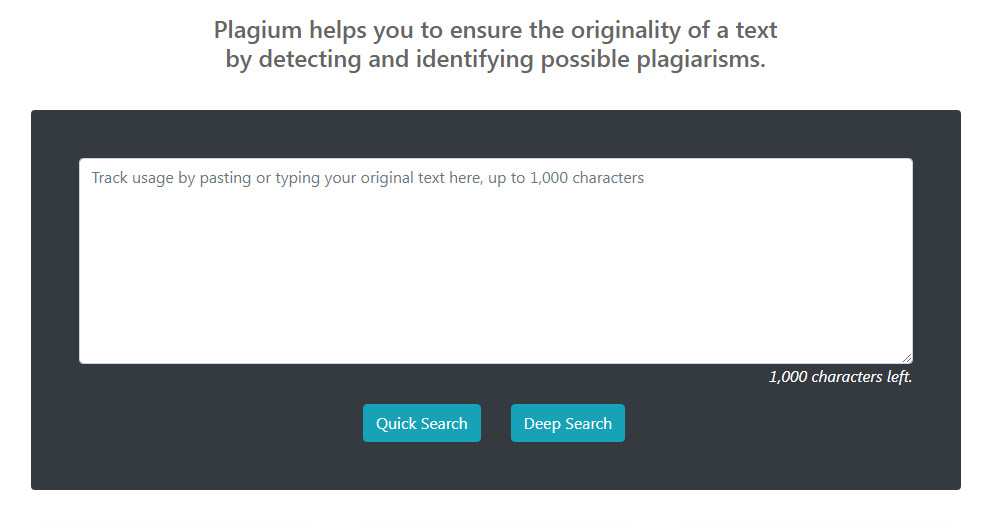 The free usage only allows you to check only 1000 characters at a time. This might not be convenient for long-form blogs. So, use this tool to detect only sections of your content.
However, let's try the Quick Search option first: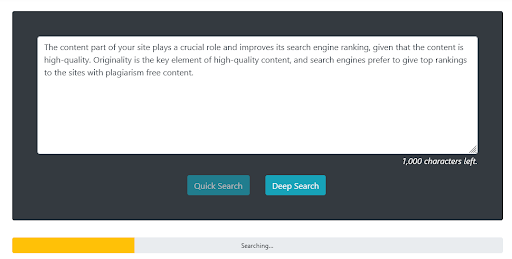 Here we see the tool is searching for duplicities in our content around the internet. For a quick search, this does take a little bit of time.

This is perhaps the best feature of this tool, as it directly shows us a glimpse of original/source content. This is ideal for detecting plagiarism quickly.
However, Deep Search requires you to sign-up.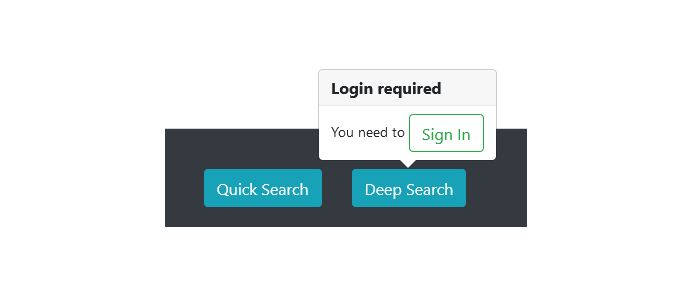 Therefore, we couldn't test that part. However, this tool is a great free option you can find today.
Features To Look Forward To:
Source content preview
Two detection methods
Pros
Two search options
Content glimpse
Source provision
Cons
Even a quick search takes a lot of time
It does not let you conduct a deep search without sign-up
Conclusion
These are the best tools you can use in 2023 to boost your search engine rankings and increase your online exposure.
In this article, we have looked at what are plagiarism checker tools, the different types of plagiarism, why you need to check for plagiarism in your content, and 3 different tools that you can use to check for plagiarism in your content.
So, if you're on the hunt to find viable plagiarism checkers, then these tools will be helpful. These checkers offer content writers the tool that they need to create high-quality original content consistently.